TNPSC Group 2A (IIA) Exam Complete Study Material Book in English
---
Seller: Sura Books

Publisher:

Sura College of Competition

Released: 2017
Language: English
Format: Paperback
Availability:

In Stock
Rs.590.00

Rs. 472.00

You Save : Rs.118.00 (20%)

(Inclusive of all taxes)
Write Reviews
Standard Shipping Time :
Handling within 1 day(s)
Same Day Shipping
Free Shipping
In Stock
• 6590 Questions on General Knowledge
• 2760 Questions on General English
• 522 Questions on Aptitude & Mental Ability
• 1420 Questions on Current Events
• TNPSC Group II & IIA Exam Boo
• TNPSC Group – IIA Complete & Perfect Study-Material Exam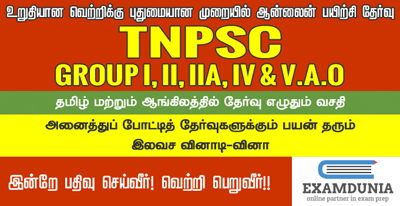 Contents
Syllabus & Scheme of Examination
TNPSC Group-II Original Question Paper - July. 2015
TNPSC Group-II Original Question Paper - June. 2014
TNPSC Group-II Original Question Paper - Dec. 2013
General Knowledge
Science
Physics
Chemistry
Botany
Zoology
History and Culture of India
Indian National Movement
Geography
Indian Polity
Indian Economics
General Knowledge & Current Events
Mental Ability Tests
Aptitude and Mental Ability Tests
Logical Reasoning
General English (New Syllabus)
Grammar (Part A)
Match the following / Phrases, Synonyms, Antonyms, Prefix & Suffix, Articles, Prepositions, Question Tag, Tenses, voices (Active & Passive), Infinitives, Gerunds & Participles, Sentence Pattern, Homophones, Find the Errors, Comprehension, Select the Correct Sentence, Find the Odd Words, Plural Forms, Identify the Sentence, Identify the Correct Degree, Blending Words, Compound Words
Literature (Part B)
Figures of Speech
Appreciation Questions from Poetry
Important lines from Poems
Questions on the Biographies
Questions on Shakespeare's (Merchant of Venice – Julius Ceasar – Sonnet 116)
Questions from Oscar Wilde's (The Modern Millionaire – The Selfish Giant)
Dr. Karl Paulnack (Music – The Hope Raiser)
Comprehension Questions from Motivational Essays
British English – American English
Book Specifications
CONTRIBUTORS
Author
V.V.K Subburaj
CATEGORY DETAILS
Category
TNPSC exam study materials
BOOK DETAILS
Publisher
Sura College of Competition
Publish Date
2017
ISBN-13 Number

9788184499056

ISBN-10 Number
8184499051
Language
English
Edition
Latest Edition
Number of Pages
1288 Page(s)
BOOK DIMENSIONS
Height
5 (cms)
Width
21 (cms)
Length
27 (cms)
Weight
1200 (gms)
SHIPPING INFORMATION
Handling Days
Same Day Shipping
Shipping Information
Free Shipping
Be the first to review about this Book. Please click to Write Review.
Customers Who Bought This Item Also Bought