TRB BEO(Block Educational Officer) Child Development and Pedagogy Aptitude and Mental Ability Exam Books in English 2020
---
Seller: Sura Books

Publisher:

Sura College of Competition

Released: 2020
Language: English
Format: Paperback
Availability:

In Stock
Share
Write Reviews
Standard Shipping Time :
Handling within - day(s)
Two Days Shipping
In Stock
Contents
Child Development and Pedagogy
Child Development (Primary School Child)
Concept of Inclusive Education and
Understanding Children with Special Needs
Learning and Pedagogy
Aptitude & Mental Ability
Aptitude and Mental Ability Tests
Logical Reasoning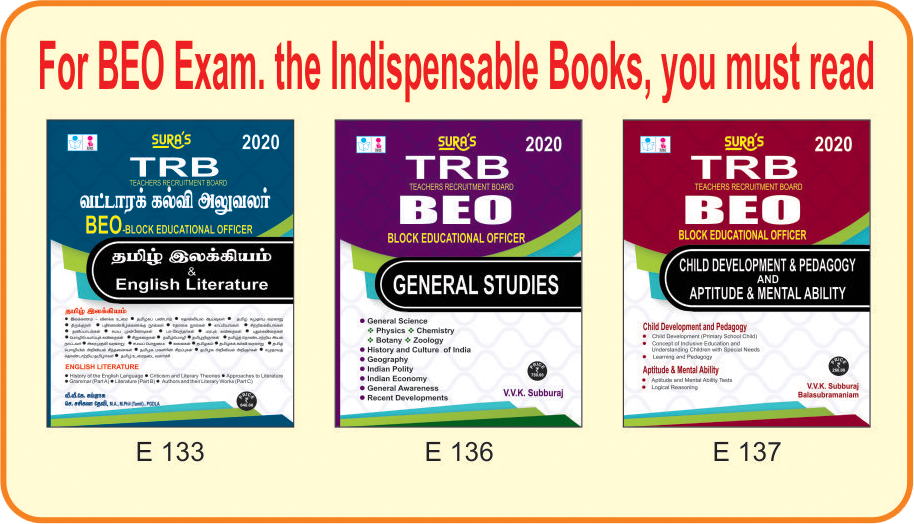 Book Specifications
CONTRIBUTORS
Author
BALASUBRAMANIAM, V.V.K. Subburaj
CATEGORY DETAILS
Category
TET and TRB Exam Books
BOOK DETAILS
Publisher
Sura College of Competition
Publish Date
2020
ISBN-13 Number

9789388534635

ISBN-10 Number
9388534638
Language
English
Edition
Latest Edition
Board
TRB
BOOK DIMENSIONS
Height
24 (cms)
Width
3 (cms)
Length
18 (cms)
Weight
490 (gms)
SHIPPING INFORMATION
Handling Days
Two Days Shipping
Be the first to review about this Book. Please click to Write Review.
Customers Who Bought This Item Also Bought