SURA`S 12th Standard Smart English Guide 2020
---
Seller: Sura Books

Publisher:

Sura Publications

Released: 2020
Language: English
Format: Paperback
Availability:

In Stock
Rs.378.00

Rs. 359.00

You Save : Rs.19.00 (5%)

(Inclusive of all taxes)
Share
Write Reviews
Standard Shipping Time :
Handling within 1 day(s)
Two Day Shipping
In Stock
Updated as per the Revised edition of Textbook - 2019-20
Exhaustive Additional Questions in all sections
Based on Question Paper Pattern
Public Exam Question Paper with Answers - March
Salient Features:
Answer for all Textual Questions.

Key points and summary for all the units of Prose, Poem and Supplementary.

Line wise explanation for all the Poems.

Exhaustive Additional Questions & Answers for all sections of Prose, Poem and Supplementary.

Tamil Translation for Prose, Poem and Supplementary Units.

Question Paper contents: Question are given in the same order as per the Govt. Model Paper, with Exhaustive additional exercises.

Additional topics(not covered in Govt. Model Paper) are also given.

Model Question Papers 1 to 6 (PTA): Questions are incorporated in the appropriate sections.

Quarterly & Half-Yearly Examination 2019 questions are incorporated in the appropriate sections.

Sura's Model Question Paper is given.

Public Examination March 2020 Question Paper with Answers is given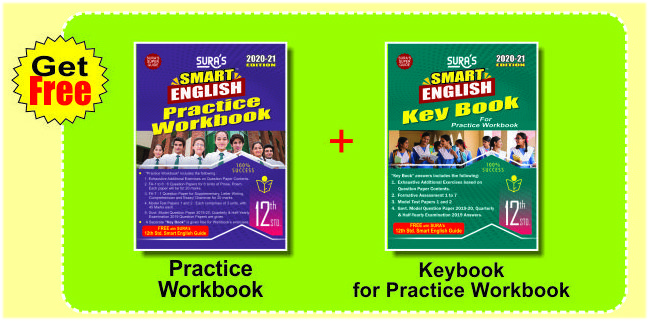 Book Specifications
CONTRIBUTORS
Author
A Panel of Author
CATEGORY DETAILS
Category
12th standard
BOOK DETAILS
Publisher
Sura Publications
Publish Date
2020-21
ISBN-13 Number

9788184498127

ISBN-10 Number
8184498128
Language
English
Edition
Latest Edition
Number of Pages
864 Page(s)
Class
12th Standard
Board
Tamilnadu State Board
BOOK DIMENSIONS
Height
24 (cms)
Width
2 (cms)
Length
18 (cms)
Weight
400 (gms)
SHIPPING INFORMATION
Handling Days
Two Day Shipping
Book Reviews
Nithin Kumar Viswanathan

10/Jun/2018

Super nice guide for 12th.. received without damage thanks sura

Was this review helpful?
jayapriyamani89

07/Jun/2017

This book covered the whole starting from questions answers chapter wise summary Grammatical part just everything to sample papers. Thanks to Sura Publication

Was this review helpful?
bhuvanasakthi1293

03/May/2017

Excellent features ,rarely found in more well-known brands.

Was this review helpful?
Customers Who Bought This Item Also Bought