SURA`S 9th Standard Guide SMART English Full Year 2021-22
---
Seller: Sura Books

Publisher:

Sura Publications

Released: 2021
Language: English
Format: Paperback
Availability:

In Stock
Share
Write Reviews
Standard Shipping Time :
Handling within 1 day(s)
Two Day Shiiping
In Stock
Based on the Updated New Textbook
Salient Features:
Answers for all Textual Questions.

Summary, Mind-map for Prose, Poem and Supplementary units. Also, stanza-wise explanation for Poems.

Exhaustive Additional Questions & Answers for all sections of Prose, Poem and Supplementary.

Summary in TAMIL for Prose, Poem and Supplementary Units.

Question Paper Contents section covers all the topics in Vocabulary, Grammar and Writing Skills.

Quarterly Exam & Half Yearly Exam-2019, questions are incorporated at appropriate section.

Question from 2018-19 S.A. exams (I, II & III terms) are also incorporated and marked as at appropriate sections.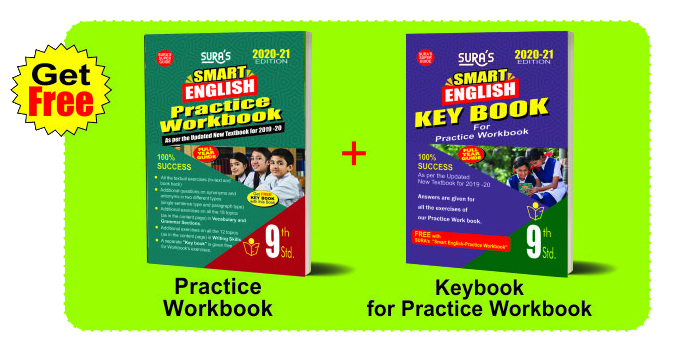 Book Specifications
CONTRIBUTORS
Author
A panel of Editors
CATEGORY DETAILS
Category
9th standard
BOOK DETAILS
Publisher
Sura Publications
Publish Date
2021-22
ISBN-13 Number

9788184495560

ISBN-10 Number
8184495560
Language
English
Edition
Latest Edition
Number of Pages
656 Page(s)
Class
9th Standard guide
Board
State Board
BOOK DIMENSIONS
Height
24 (cms)
Width
2 (cms)
Length
18 (cms)
Weight
300 (gms)
SHIPPING INFORMATION
Handling Days
Two Day Shiiping
Be the first to review about this Book. Please click to Write Review.
Customers Who Bought This Item Also Bought