SURA`S 9th Standard Guide SMART English Full Year 2023-24 Edition
---
Seller: Sura Books

Publisher:

Sura Publications

Released: 2023
Language: English
Format: Paperback
SKU: SG57
Availability:

In Stock
Rs.450.00

Rs. 405.00

You Save : Rs.45.00 (10%)

(Inclusive of all taxes)
Write Reviews

Click here to view sample pages of this book
Standard Shipping Time :
Handling within 1 day(s)
Two Day Shiiping
In Stock
Tamil Explanation for every concepts.
Unit wise mock test with answers
Facile words to understand
Mind-Map was drawn uniquely for each Prose
Poem
and Supplementary unit.
Letter writing in revised format
Summarized lessons to reduce the burden of the students
Description :
SURA'S 9th standard English guide was developed by well -trained and experienced authors .The 9th std English guide 2023-24 was inclined according to the updated samacheer kalvi 9th books syllabus released by Tamil Nadu State Board Council. Our 9th std English guide encompass all the requirement of the students to comprehend the text and the evaluation of the samacheer kalvi 9th books. Elementary formation of sentence makes students to understand the concepts better , which makes them to score high marks and also make them to learn the concepts clearly. Additional questions have been provided exhaustively for clear understanding of the units under study. Lessons in samacheer kalvi 9th guide has been summarized to reduce the burden of the students.
The Tamil translation was given in samacheer kalvi 9th English book answers for every concept makes students to understand the subjects much better. Mind-Map was drawn uniquely for each Prose, Poem, and Supplementary unit. Explicate Santa Wise explanation for every poems. Unit wise practice test was enclosed with every lessons for students better understanding. Quartely and Half yearly exam questions are subjected along with the answers. A free edition of SURA'S Smart English practice book and key book was enclosed along with this guide to enhance the grammatical knowledge of students. For better grammar learning students can make use of our SURA'S 9th standard English workbook . SURA'S model summative assessment question paper with answers for each term also enclosed with this guide for better learning. Though the book is subjected to Samacheer kalvi pattern ,facile words has been used which can be apprehended by the both medium of students.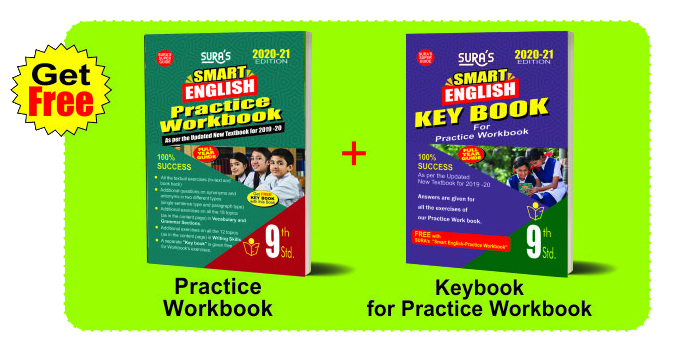 Book Specifications
CONTRIBUTORS
Author
A panel of Editors
CATEGORY DETAILS
Category
9th standard
BOOK DETAILS
Publisher
Sura Publications
Publish Date
2023-24
ISBN-13 Number

9788184495560

ISBN-10 Number
8184495560
Language
English
Edition
Latest Edition
Number of Pages
656 Page(s)
Class
9th Standard guide
Board
State Board
BOOK DIMENSIONS
Height
24 (cms)
Width
2 (cms)
Length
18 (cms)
Weight
300 (gms)
SHIPPING INFORMATION
Handling Days
Two Day Shiiping
Be the first to review about this Book. Please click to Write Review.
Customers Who Bought This Item Also Bought